Sistema INFORMAtivo integrato per il litoRale Emiliano-romagnolo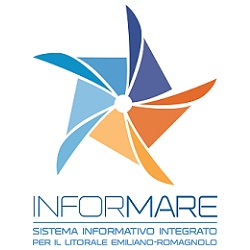 The project aims at developing an innovative information system to collect and provide both observed and forecast meteorological and climatic data concerning air and water quality, in order to produce a series of innovative and effective services for tourism operators, bathers and stakeholders of the E-R coastal area.
The project will organize and optimize the multiplicity of weather-climatic information available today in the area in a fragmented way and the data resulting from forecasting and observational research in the marine-meteorological field in a single centralized database, for information purposes.
The creation of the project database will be functional to the design and creation of three ICT tools as project demonstrators:
Web portal able to display on request the weather-climatic, air quality and bathing water information generated by the project
Network of digital panels distributed on site in some key areas for seaside tourism (Cervia and Rimini)
Customized "App" aimed at disseminating specific weather-climatic information, created on the basis of the habits of end users interfaced and connected to the marine tourism system and the coastal hinterland.
Coordinator: PROAMBIENTE
Partners: GRUPPO C.S.A. e CONFINDUSTRIA Emilia-Romagna Ricerca CERR
Enterprises: COOPERATIVA BAGNINI CERVIA, COMMUNICATION TECHNOLOGY
CNR Institutes involved: ISTITUTO DI SCIENZE DELL'ATMOSFERA E DEL CLIMA, ISTITUTO DI SCIENZE MARINE, ISTITUTO DI BIOMETEOROLOGIA
Regional S3: Cultural and creative industries
Regional funding: 828.412,00 euro
Project duration: from 13/06/2017 to 12/06/2019 (24 months)
Call: Strategic industrial research projects aimed at the priority areas of the Intelligent Specialization Strategy (DGR 774/2015)
Value chains involved: Servces, Envirnment, Big Data, IT
Web site: https://www.consorzioproambiente.it/en/projects/terminati/50-informare-por-fesr-2014-2020